Customer Reviews
Write a Review
Ask a Question
04/21/2021
lINDSEY

United States
PERFECT BAG
tHIS BAG IS PERFECT FOR WHAT i NEED! tHE ONLY REASON i DIDN'T GIVE IT A 5-STAR RATING IS BECAUSE THE COLOR IS VERY MUCH MORE OF A DUSTY RED-ROSE THAN A PINK ROSE LIKE THE PICTURE SHOWS. i WAS HOPING FOR A FUN-COLORED BAG THAT i COULD USE IN THE SPRING AND TRANSITION INTO SUMMER. i'LL STILL USE IT, JUST A LITTLE DISAPPOINTED IN THE COLOR.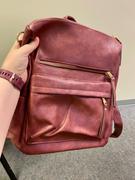 04/19/2021
Megan

United States
Toddler approved
The quality of the bag is great! I was very impressed. It makes a perfect diaper bag while still being stylish. Only one thing I would change, made the top opening a little wider. Def will be purchasing more items!
04/18/2021
Sydney P.

United States
04/16/2021
Jessica A.

United States
04/16/2021
Jessica

United States
04/15/2021
Keena

United States
Perfect Size!
I purchased the cream colored Brielle. I love that it's made of vegan leather! The strap that it comes with is so beautiful! i'm very particular when it comes to purses but after months of searching I came across modern and chic on Instagram and this purse checks all the boxes. it's cute, has enough pockets, it's not too big or too small, it's comfortable, it zips open and closed smoothly, AND it's affordable. I don't even need to share a picture of it because the team at modern and chic have done a fabulous job at capturing its true beauty (and color) on the online store, on Instagram posts, and their wear it Wednesday video. If you need to see the inside of the bag, check out the 9.30.2020 wear it Wednesday video on Instagram. The inside is roomy and has a zippered pocket and 2 slip pockets. I am very, very happy with my purchase! :)
04/14/2021
Katie G.

United States
Love my brielle!
Kept Seeing ads on my Facebook and Instagram for modern+chic...I've been looking for a cute summer bag that's easy to travel with and the Brielle is perfect...it fits all my stuff plus has extra room! Love that it's a convertible backpack to purse, and the detachable strap is so cute! I even got two...one in taffy pink for summer and another in olive green for fall!
04/12/2021
Jennifer H.

United States
04/11/2021
BY
Brittany Y.

United States
04/08/2021
Angelique

United States
04/08/2021
Angelique

United States
04/08/2021
Zoë s.

United States
beautiful bag!
I just bought this bag in the Camel color and absolutely love it! Its not terribly big which Is what I was looking for! it's perfect size for just a few things I need to take out with me running errands with two kiddos! My crossbody purse was causing me shoulder pain because I had too much stuff in it, with this bag I no longer have any pain!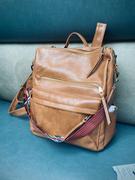 04/06/2021
Lacey D.

United States
So adorable and versatile!
This bag is adorable! I Love it! Perfect for spring and summer. I have kids and it will be great to have extra room for all the stuff that ends up in my purse love that It is so versatile!
04/05/2021
Christina

United States
Great bag!
I bought the bag for an upcoming vacation but wore it today to go hiking with my kids. While I wouldn't want to wear it for a long hike, it did a great job of carrying my water bottle, snacks, keys and cell phone. It was comfortable and lightweight. Im looking forward to using it on vacation but am worried that it will cause my back to sweat