MCjournal #5: 2023 Trend Forecast
Welcome back to the MCjournal: 2023 Trends Edition!
Happy New Year from the Modern+Chic Team!
It's 2023! We are so excited for new beginnings, fresh starts and becoming even better versions of ourselves this year! You can't start the year without talking about what's ahead: The Trend Forecast! What will be "in" this year? What colors and styles will be everywhere? We've got the answers & all the accessories. Read on to see the trends!
2023 Color of the Year: Viva Magenta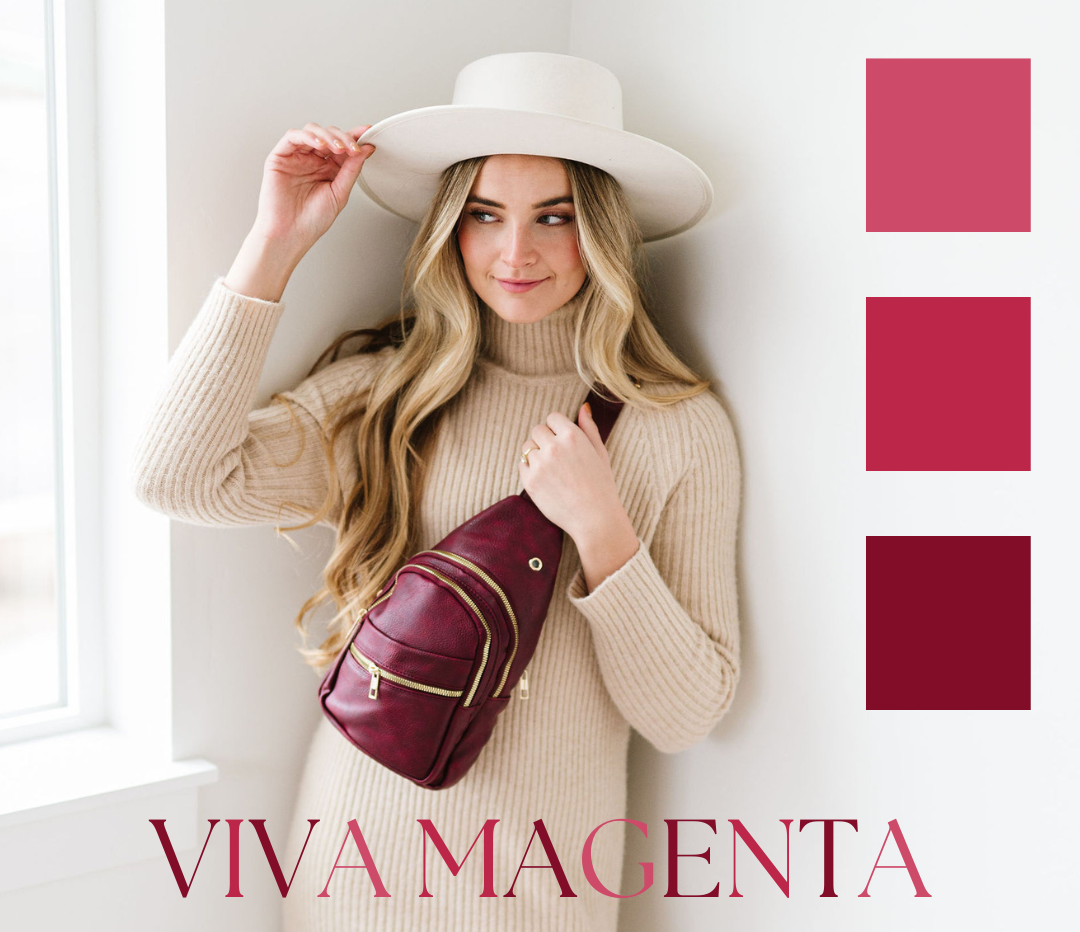 We're really excited about Viva Magenta as the 2023 Color of the Year! This powerful and vibrant color will help you be bold and fearless in everything you pursue in the months ahead. It's a statement color that also works as a neutral. We love it! Shop the Viva Magenta Collection!
The It Bag: The Crossbody
The Crossbody Bag is the "It" Bag of 2023. The convenience, the versatility & minimalism of the crossbody is why everyone keeps reaching for it! You can wear it multiple ways and have all of your essentials within reach. We've been designing new crossbody's that you'll love! Check out our Crossbody Collection!
2023 Trend: Warm Neutrals
Neutrals just got warmer! We're leaving behind the grey and adding some sunshine to our neutrals with warmer tones of pink, tan, camel, mauve, cream & caramel browns. Add these richer tones to your closet to refresh your tried and true neutrals. Shop the Warm Neutrals Edit!
2023 Trend: Buckle Up
Buckles are back! The buckle trend on handbags adds a luxe detail that feels so classic and extra secure. It's giving "she's got it together." These bags are perfect for anyone who loves timeless & chic styles! View the entire Buckle Up Trend Collection.
2023 Trend: Playful Prep
Plaid but make it fun! Playful Prep is taking the signature plaid print in new and unexpected ways. We like to think it's Clueless meets Emily in Paris! (We need Season 4 ASAP!) Check out the Playful Prep Collection!
May your 2023 be everything you want it to be, and more! xoxo, the M+C team!
---