Customer Reviews
Write a Review
Ask a Question
03/21/2021
Mary A.

United States
Bree 2: bracelet/ keychain
it was easy to order what wanted, and I received the items within 6-days. I previously ordered a bracelet/ keychain with A bag. I was so pleased with the quality of the products that I ordered two more Bree 2 bracelet/ keychains to give as gifts. Your products are unique, eye-catching, and conversation starters. I receive a lot of compliments and questions about where I purchased them. Thank you!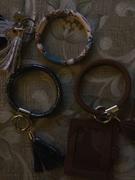 03/10/2021
Destiny B.

United States
Becca keychain
Picked one up for a little gift and one for myself. Exactly what I wanted.
02/01/2021
Meghan S.

United States
Becca 2 keychain
Love it! Great for keeping my keys around my wrist while I run into the store.
10/17/2020
Ellen A.

United States
10/12/2020
Ashley H.

United States
Amazing
Wonderful, I love everything I ordered and the quality is amazing! Excellent customer service and fast shipping! Will definitely order again!
10/01/2020
m

United States
worth it!!!
This keychain is well made and super cute! I'm giving them as gifts this year and there are so many options to choose from. You can definitely find something for everyone!
Best invention ever!
I have gotten so many compliments on this keychain bracelet. I have the camo pattern and I love it. I tried many other different products and this one is the best. It makes juggling bags, my phone and keys so much easier.
Ultimate fave
The title says it allll!! Lol and so I bought my 2 besties one as well. and they LOVE it!
lovely!
love love love it!! I purchased these for me and my daughters... i absolutely love it!
Beautiful & functional
I love this key ring! I lose my keys a lot and this helps me not lose them. it's stylish and functional. I never have to worry about my keys being lost anymore. Easy to put on your wrist or just carry. Love it love it!!!
saves my shoulders!
I love big bags but my shoulders dont. I use this bangle and have my keys, wallett, and phone all attached. i can leave my purse and just grab my bangle when i need to run into the store. great quality too!
Best little invention!
Where has this been all my life? I hate having to drag a purse around with me when I'm coming and going for a quick trip to the store. This allows me to grab my stuff and be hands free! I have one for my wallet and one for my keys!
Love the improvements
I had the original Becca keychain and loved it...was so happy to hear about the improvements made to the new one as I had worn out my first. So cute and practical.
Bracelet/keychain
I purchaced 3 keychains. One for my self and the other 2 for my daughters. I love this product because my hands are always full and it is easy to just throw on my wrist and have access to. It is durable and cute! I love the variety of patterns/styles. I always get complements and the price makes it a fun little "I'm thinking of you" gift.
Best keychain ever!
Love my new Becca keychain! ❤️
Very cute
Super cute and a great way to keep track of your keys.